Sunday, January 15, 2006
Saturday, January 14, 2006
Dear Diary,

I don't know how much more of this little shit I can take. I've tried to be understanding about his home life, but sometimes I want to throw that dumb fuck through a wall.

Last week, I assigned the class an art project that I thought was pretty mundane: Draw your living room. That seemed easy enough. When Class was over, Timmy asked if he could finish his project at home, because he said he wasn't done. I thought "Thank God! That little bastard is finally taking and interest in something." He brought it in the next day, which was a first. However the theme wasn't exactly what I was going for.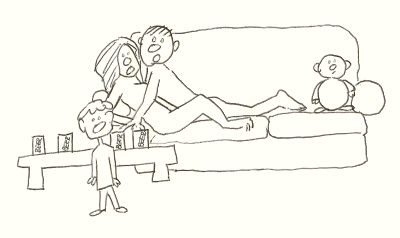 Trying to be a supportive teacher, I simply told him, "Nice drawing," and quickly put it in my desk. On my lunch, I called his mother to see if she could come in after school some time for a brief conference. I was hoping that by showing her the picture, she'd realize how her actions were affecting Timmy. I mean, what parent doesn't want the best for their child?
So Mrs. Timmy's Mother ( I don't even know her last name) shows up today, a half an hour late, of course. The woman was enough to make a porn star blush. I tried to explain nicely that this wasn't exactly an appropriate drawing for school. She said,
"I know, I'm sorry. I told him he really should leave the beer cans out." I was dumbstruck. Then she opened her swollen lips (from collagen or fellatio — I have no idea) again. "But you have to admit he has a real gift."
A GIFT? For WHAT? Disrupting my class? Pissing me off? What? But what actually came out was,
"Excuse me?"
"For drawing. My kid's a dumb shit, but he draws real nice."
I almost died. After a few more minutes of small talk, and a promise from her that she'd make sure he did his homework now on, the slut finally left.
Today I assigned an essay, "What I want to be when I grow up." I'm scared already. Timmy was very excited about the project. I could have sworn I heard him say,
"Cool. When I grow up, I want to be a chimp." At least, that's what I thought he said.
Friday, January 13, 2006
Thursday, January 12, 2006
Wednesday, January 11, 2006
Tuesday, January 10, 2006
Monday, January 9, 2006
Sunday, January 8, 2006
Thursday, January 5, 2006
Wednesday, January 4, 2006
Tuesday, January 3, 2006
Monday, January 2, 2006