There were many talented, and even great, painters in the 20th century. Most of them had one thing in common.

It wasn't the medium: some used oils...others used watercolors....yet others used acrylic.

It wasn't the style: the century brought us cubism, abstract expressionism, fauvism, dada, etc.

It wasn't even a passion for the comedy stylings of Benny Hill: although curiously, very many painters of various backgrounds did find the portly comedian quite amusing.

No. It was....sock monkeys.

Almost every major artist at some point experienced his sock monkey period.

Pablo Picasso dabbled with sock monkeys during his cubism period.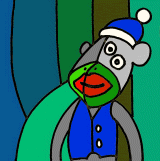 Socky (1911)

Note the lifeless eyes and yet playful lips.
There is a vivid and strange combination of mirth and death within this painting.
He also did some monkeys in his blue period, but those kind of sucked.
It is believed that Jackson Pollock also dabbled in sock monkeys, although if he did it is almost impossible to tell from his work.
Henri Matisse worked with the monkey off and on throughout his various art periods.
His fauvist sock monkeys, while absolutely breathtaking, are all owned by private collectors and rarely appear in any collections of his work.
As is the pictured dancing monkey from his collage "Jazz" era.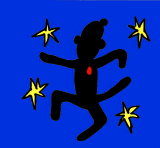 Jazz Monkey (1942)

Note the sweep and hint of movement from the shadowy monkey playing in the night. Wonderful!
Jean-Michel Basquiat created three notable sock monkey paintings.
All three are in private collections, but we were able to provide one.
Much like his more famous "Irony of the Negro Policeman" and "Famous Negro Athletes", the one featured here "Negro Sock Monkey" was from his early to mid 1980's black history period.

Negro Sock Monkey (1982)

Beautiful!
Although we searched high and low, we were unable to discover any work from the "sock monkeys playing poker" genre. This genre was quite popular in the early 1940's, but quickly made way for the more expressionistic sock monkeys which followed. These days, most examples of "sock monkeys playing poker" can be found in basements and flea markets.
The next time you see a lonely sock monkey sitting on a table at a garage sale, don't snicker. Don't giggle at his bland relatively non-simian looking self.
Think about what that visage has brought to so many artists. Ponder the impact that icon has played in the art world.
And then buy him. They are really snuggly.